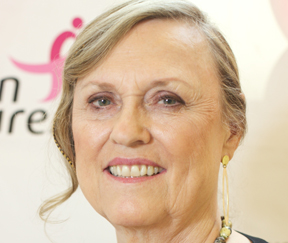 Sharon Spencer Schlesinger continues to reinvent herself. She is currently a novelist with three novels soon to be published. She spent 20 years on Wall Street as a Senior VP of the Pacific Stock Exchange. She has owned multiple small businesses in New York, New Jersey and California. And she is an invaluable advocate for Susan G. Komen Los Angeles County Affiliate.
Diagnosed with early stage breast and cervical cancer in 1987, she underwent surgery for both diseases simultaneously at Columbia Presbyterian Hospital in NYC. She is a survivor of both cancers for 24+ years.
Sharon served multiple years on the Board of Directors for Susan G. Komen LA County and was Board Vice President in 2008; she was the Race for the Cure Chair in 2010; she founded Fashion for the Cure in 2001; and has chaired many other events and committees. Sharon was named Komen National Volunteer of the Year in 2005. Her leadership continues to inspire and recruit others to join the Komen cause.
Sharon is married, a mother of three, and a happy grandmother of five grandkids.